Sony Classical to Release 'Molly's Game' Soundtrack
JANUARY 4, 2018 | Submitted by The Krakower Group / Soundtrack.Net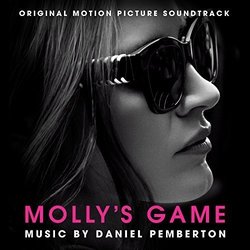 Sony Classical proudly announces the release of Molly's Game (Original Motion Picture Soundtrack), featuring music by Daniel Pemberton. The soundtrack to Aaron Sorkin's directorial debut will be available on January 5, 2018. STXfilms and The Mark Gordon Company's Molly's Game was released in select theaters in the U.S. on December 25th, and will expand wide on January 5, 2018.
"It was great working with Aaron - I still can't believe this is his first time as a director - he was so assured, enthusiastic and supportive it felt like he'd been doing it all his life," said Pemberton.
"When you're directing a film for the first time—and I would imagine when you're directing a film for the hundred and first time—you don't want the top people involved to be soldiers who'll carry out your instructions. You want them to be artists who are better than your instructions. At an early meeting with Daniel in Toronto, where much of Molly's Game was shot, I told the extraordinary composer that I wasn't hearing electronic music in the score. Instead I wanted strings, reeds and brass—an orchestral sound. Daniel nodded, smiled his thousand-watt smile and said, 'There will be electronic music,'" Sorkin joked. "Daniel became nothing less than a co-author of the film. And I'll be forever grateful that he followed his instincts instead of my instructions."
Speaking to the dynamic score he crafted for this engaging true-life thriller, composer Daniel Pemberton said, "I wanted to write it so it felt a bit more like a bunch of different bands had written the score than rather a solitary film composer. I wanted it to feel like something that came from inside Molly's world, the kind of music she would listen to or be surrounded by. It needed to feel contemporary, not like a traditional film score. But at the same time Aaron always wanted to give her a theme, one that would grow through the film into a big emotional resolution at the end, so it was important to work that into what I would do as well."
Newsletter
Enter your e-mail address to receive weekly soundtrack and film score news: