'The Long Road Home' Score Album Announced
JANUARY 10, 2018 | Submitted by The Krakower Group / Soundtrack.Net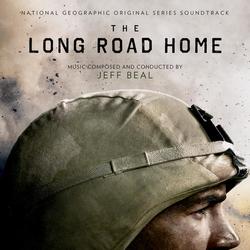 Varèse Sarabande will release The Long Road Home – Original Limited Series Score digitally on January 12, 2018 and a limited edition CD is available beginning today directly at www.varesesarabande.com. The album features original music composed by Emmy-Award winning composer Jeff Beal.
On April 4, 2004, the First Cavalry Division from Fort Hood was ferociously ambushed in Sadr City, Baghdad— a day that later came to be known as "Black Sunday." Based on Martha Raddatz's best-selling book, The Long Road Home chronicles their heroic fight for survival, as well as their families' agonizing wait on the home front back in Texas.
Jeff Beal was clear on the importance of The Long Road Home. "When you do a story about real people you really want to get it right," he said. "Film music is the language of the emotional journey that a character goes through. One of the things that I love about this series, is that it is not just a combat movie or about an ambush, it is about the soldiers' lives. Each hour you learn about them, their wives, their kids. And unfortunately some of these guys don't come back. It is great chance for us to see the level of sacrifice as well as the dignity and bravery these people have. This is their job and what they have to do is pretty amazing."
"This is a really intense piece of filmmaking," said Beal. "That is what I love about being an artist. You want to feel something. The themes in The Long Road Home are about brotherhood, community, and loyalty- things we all should celebrate. We need them now more then ever."
Newsletter
Enter your e-mail address to receive weekly soundtrack and film score news: