Varese Sarabande Announces 'Hangman' Soundtrack
JANUARY 11, 2018 | Submitted by The Krakower Group / Soundtrack.Net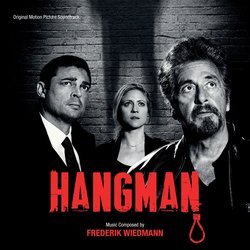 Varèse Sarabande will release the Hangman – Original Motion Picture Soundtrack digitally and on CD January 26, 2018. The album features the original music composed by Frederik Wiedmann.
Decorated homicide detective Ray Archer (Al Pacino) partners with criminal profiler Will Ruiney (Karl Urban) to catch one of the city's notoriously vicious serial killers, who is playing a twisted version of murder using the child's game... HANGMAN, while journalist Christi Davies (Brittany Snow) reports on the crime spree, shadowing the detectives.
"When I read the script I immediately had a sense of what this film will have to feel like," Wiedmann described. Rather than gearing towards more traditional horror tropes, "we made the determination that we have a much stronger emotional component – a rather tragic backstory of our two detectives - that the score couldn't ignore."
In addition to a standard orchestral palette, "I did however use fair amount of solo cello, haunting solo vocals (by Ayana Haviv), and a heavy set of sound design/electronic elements, for a more modern sound," Wiedmann explained. He wrote themes for the characters, including one especially for The Hangman. "Our detectives chase a serial killer that works in a specific pattern - making it impossible for the detectives to be a step ahead of him. Every time they see him at the crime scene, he smiles and gets away. I tried to create something musically that underlines his smirk, his superiority. We ended up with a live-recorded soundbite of me laughing (kind of a mad laugh if you will), which we then distorted heavily and added other creepy elements to. This way, The Hangman was literally 'laughing' at the detectives inability to catch him."
Newsletter
Enter your e-mail address to receive weekly soundtrack and film score news: