Lakeshore Records Announces 'Black Mirror: Black Museum' Soundtrack
JANUARY 19, 2018 | Submitted by The Krakower Group / Soundtrack.Net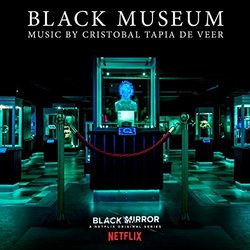 Lakeshore Records will release the Black Mirror: Black Museum – Original Soundtrack digitally on January 19, 2018. The album features original music by composer Cristobal Tapia de Veer.
"Black Mirror was one of the best things I've seen on TV," said Tapia de Veer. "However I wasn't influenced by other episodes while writing the score, because Colm's [McCarthy, director] Black Museum was its own thing. It is very Black Mirror, but the style felt new to me, so I worked on it as if it were a stand-alone film."
The Black Museum episode is presented as a series of three stories told by Rolo Haynes (Douglas Hodge), proprietor of the remote "Black Museum" to his solitary visitor Nish (Letitia Wright), all involving various exhibits related to cutting edge technological connections and transfers with the human brain that Rolo had developed in his career.
"The beginning, discovering the Black Museum, that was going to set the tone for the rest of the show," explained Tapia de Veer. "The music morphed in many ways throughout the 3 stories, then goes back to where it started with the Black Museum, although with a sense of accomplishment, but also a sense of doom."
To create the overall feel, "I tried many things," said Tapia de Veer. "But in the end the whole palette comes from one single piece of music I gave Colm that he felt could be the theme that gives continuity, and holds the three stories together." In addition to creating a bit of a theme for Rolo to invoke a salesman-like drive, but with a creepy vibe, Tapia de Veer utilized girls voices which poke through the mix, "Melodic hints that accompany Nish, as well as other characters like the Monkey, somehow connecting them all as allies in this quest for revenge and/or justice."
Newsletter
Enter your e-mail address to receive weekly soundtrack and film score news: