Lakeshore Records Announces 'The Alienist' Soundtrack
FEBRUARY 1, 2018 | Submitted by The Krakower Group / Soundtrack.Net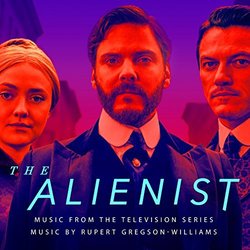 Lakeshore Records will release The Alienist – Music From the Television Series digitally on February 2nd and on CD later this year. The album features original music by composer Rupert Gregson-Williams (Wonder Woman, The Crown). The Alienist is a co-production between Paramount Television and Turner's Studio T and premiered on Monday, Jan. 22 at 9 p.m. ET/PT across TNT platforms.
When asked about the emotional themes present in the music of The Alienist, composer Gregson-Williams said. "I was excited about exploring the themes of the Alienist Laszlo Kreisler himself, because he is a character with such depth and complexity. Laszlo has an understanding of the human psyche that is pure genius, but he is also very flawed emotionally. He needs a theme that reflected that depth as it would move with him throughout the story."
An unflinching psychological thriller set amidst the underbelly of New York City's "Gilded Age," The Alienist follows Laszlo Kreizler (Daniel Brühl), a brilliant and obsessive "Alienist" in the controversial new field of treating mental pathologies, who holds the key to hunting down a never-before-seen ritualistic killer murdering young boys. Based on the award-winning, fan-favorite novel by Caleb Carr, with standout performances from Luke Evans and Dakota Fanning, The Alienist is a gripping, turn-of-the-century murder mystery like none other: the story of the emergence of the world's most powerful city that will stop at nothing to bury its darkest secrets.
"The first thing I worked on was a suite to represent the streets of New York," continued Gregson-Williams. "The city was, at the turn of the twentieth century, at the forefront of scientific discovery but was also a sense of true anarchy in everything that is happening. I wanted discovery and change to ring out with every note of the music. I played the double bass and violin throughout the score. The double bass is so guttural and startling just like being in the city at that time."
Newsletter
Enter your e-mail address to receive weekly soundtrack and film score news: