Mercury KX to Release 'McMafia' Soundtrack
FEBRUARY 6, 2018 | Submitted by White Bear PR / Soundtrack.Net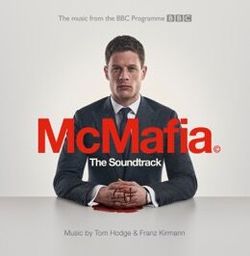 Mercury KX is proud to release the official soundtrack to AMC's new series McMafia, with music composed by Tom Hodge and Franz Kirmann. The album will release digitally in the United States on February 23rd.
The fast-paced, gritty drama is based on Misha Glenny's non-fiction book of the same name, and stars James Norton in the lead role. The series follows London banker Alex Godman (Norton) who, despite his life-long attempts to disassociate himself from his family's Russian mafia connections, finds himself wrenched from his comfortable life and thrown head first into the dark, violent world of organized crime.
Created and written by award-winning screenwriter Hossein Amini and film director James Watkins, the eight-part series blends intimate family drama with the epic scope of international criminal organizations. It was produced by Paul Ritchie for Cuba Pictures.
The gripping original score has been created by Tom Hodge and Franz Kirmann, who have worked collaboratively over the past 10 years. Under the guise of their post-classical / electronic moniker Piano Interrupted, they have released three albums and toured Europe.
On the composition process for McMafia, Kirmann says, "Most pieces in the show have two layers that are intimately interwoven, a top layer, glossy and slick, that reflects the kind of world Alex Godman evolves in, and a lower, brooding one, usually constructed from heavy processing of the first one, echoing the darkness and grimy underside of that world."
On the score, Amini comments: "Tom and Franz have brought a truly original and distinctive voice to the series, mixing tension, emotion, violence and tenderness in a bold, mesmeric score which is utterly unique but will also have a big influence on many future shows."
Watkins adds: "From the very first chords of their arresting theme music, at once both a seduction and a lament, Tom and Franz's delicately immersive score captures the heart of our show. Their music is both epic and intimate, taking us into the head of Alex Godman and underscoring the connections of a globalised criminal network, peeling back its layers and confronting us with the tragic consequences of those it touches."
Newsletter
Enter your e-mail address to receive weekly soundtrack and film score news: