Lakeshore Records & Invada Records Announce 'Annihilation' Soundtrack
FEBRUARY 15, 2018 | Submitted by The Krakower Group / Soundtrack.Net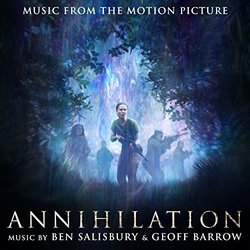 Lakeshore Records and Invada Records will co-release Annihilation—Original Motion Picture Soundtrack, featuring a score by Ben Salisbury and Geoff Barrow, worldwide. The composing partners have once again joined forces with writer and director Alex Garland (28 Days Later), for the filmmaker's upcoming film from Paramount Pictures and Skydance, starring Natalie Portman and produced by Scott Rudin, Andrew MacDonald, Allon Reich, and Eli Bush. Their score for Garland's Oscar nominated Ex Machina gained two World Soundtrack Awards nominations and was the 2016 Ivor Novello Award Winner for Best Original Score. The soundtrack will be released digitally in North America by Lakeshore Records and in the UK/Europe by Invada Records February 23 with CD and vinyl editions forthcoming. Paramount Pictures will release the film in U.S. on February 23 and on Netflix outside the U.S. from March 12.
From visionary writer and director Alex Garland and based on the acclaimed best-selling Southern Reach Trilogy by Jeff VanderMeer, Annihilation stars Natalie Portman, Oscar Isaac, Jennifer Jason Leigh, Tessa Thompson, Gina Rodriguez and Tuva Novotny. Portman plays Lena, a biologist and former soldier, that joins a mission to uncover what happened to her husband inside Area X - a sinister and mysterious phenomenon that is expanding across the American coastline. Once inside, the expedition discovers a world of mutated landscape and creatures, as dangerous as it is beautiful, that threatens both their lives and their sanity.
Garland remarks that Salisbury and Barrow's partnership "sets an incredibly high bar of creative skill and integrity, with music that is brilliant, unique and truly cinematic."
Salisbury and Barrow note: "After our experience on Ex Machina, we obviously jumped at the chance to work on a new Alex Garland film, and it was very exciting, as right from the outset we could see that we were going to have to use a wider musical pallet than we did on Ex Machina, and operate on a bigger and broader scale."
Newsletter
Enter your e-mail address to receive weekly soundtrack and film score news: