'Nostalgia' Soundtrack Released
FEBRUARY 23, 2018 | Submitted by The Krakower Group / Soundtrack.Net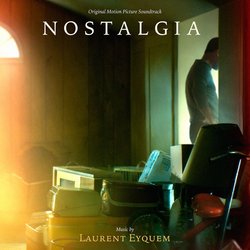 Varèse Sarabande will release the Nostalgia – Original Motion Picture Soundtrack digitally on February 23 and on CD March 23, 2018. The album features original music composed by Laurent Eyquem (Momentum, Winnie Mandela).
"[Director] Mark Pellington is one of the most respected Music Video Directors in the world," said Eyquem. "He has an amazing sense of music and when we met, he already knew what he wanted and did not want. He wanted to have the score based on piano and strings. And he wanted to keep the sound as organic as possible: he wanted to be able to hear the piano's pedal, any click from the bows of the strings, any imperfection that usually we do not keep at the mix. Those imperfections were kept to help the audience to feel as if they are witnessing ''live'' a moment in someone's life, and, to remind us, that life is not perfect."
A mosaic of stories about love and loss, Nostalgia explores our relationships to the objects, artifacts, and memories that shape our lives.
For Eyquem, who himself has had to overcome many personal tragedies, this score was very personal. "When we finished watching the film for the first time, Mark grabbed my arm, looked at me, and asked me quietly to go inside my heart, to go back to those excruciating moments when I lost my younger sister and my Dad, those moments where I had to decide what to keep from them and what to let go."
He was able to channel these emotions and get to the core of the stories within Nostalgia. "My main challenge, cue after cue, was to keep the emotion real, not exaggerated; authentic, organic and simple, in order to help the audience to be a witness through the music," Eyquem explained. "Avoiding over-scoring, over-feeling was constantly on my mind. When you have raw emotions like those on screen, with a pristine and majestic acting from masters like Ellen Burstyn, Catherine Keener, Jon Hamm, Bruce Keener...the score could easily become very 'cheesy' and could destroy the emotions by overplaying them. The challenge was double, because Mark gave me all the freedom to use melodies and not a 'background' atonal score."
Newsletter
Enter your e-mail address to receive weekly soundtrack and film score news: