WaterTower Music Announces 'Ready Player One' Soundtrack
MARCH 23, 2018 | Submitted by WaterTower Music / Soundtrack.Net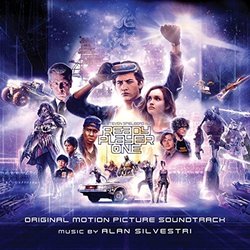 WaterTower Music announced today the details of the soundtrack to Ready Player One, Steven Spielberg's action adventure based on Ernest Cline's best-selling book of the same name. The film is in theaters March 29, and the soundtrack, featuring the score by award-winning composer Alan Silvestri (The Avengers, the Back to the Future Trilogy, Forrest Gump), becomes available for streaming and digital purchase the next day. A two-CD version of the soundtrack is slated for an April 6 release, with a Double Vinyl configuration of the soundtrack available July 13.
The film's director/producer Steven Spielberg notes, "While all sorts of culturally iconic references populate Ready Player One, the score that Alan Silvestri composed is completely and intoxicatingly original. It's bound together by multiple themes that identify plot and character and is infused by such percussive adrenaline and soaring strings that Alan has made Ready Player One appear to fly. I think his score is fantastic."
Though Ready Player One marks their first collaboration on a film directed by Spielberg, Silvestri has scored a number of films produced by the filmmaker, including the Back to the Future films.
The composer says, "An invitation to travel arrived just about a year ago, not just to a place, but to a time. Actually, to a number of times—primarily the year 2045, along with a few stops in the 80s. A rather detailed map had been drawn by Ernest Cline and the Captain of the voyage, none other than Mr. Spielberg himself. What could one possibly do or say? Pencil in hand, one firmly fastens one's seatbelt, says 'Sir, Yes, Sir,' and prepares for the trip of a lifetime."
Newsletter
Enter your e-mail address to receive weekly soundtrack and film score news: