Dubois Records Announces 'Call the Midwife' Soundtrack
MARCH 26, 2018 | Submitted by White Bear PR / Soundtrack.Net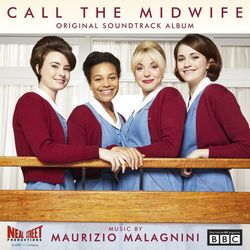 Dubois Records has released the highly anticipated Call the Midwife – Original soundtrack album digitally on March 26th and on CD in May 2018. The soundtrack features the original score of the BBC One/PBS TV series by Emmy-nominated and IFMCA award-winning composer Maurizio Malagnini. The BAFTA-winning series is the most watched drama in the U.K., averaging more than 10 million viewers each week. Call the Midwife, has returned to PBS in the USA on Sunday, March 25th, 2018 with its 7th season.
This will be the first ever released Call the Midwife soundtrack album entirely dedicated to the composed music in the seven-season run of this acclaimed BBC One/PBS TV series made by Neal Street Productions. Maurizio began working on Call the Midwife in season 4, and his music has since become the heart of the drama series and an essential part of storytelling. One of the themes of the show is the mystery behind the creation of life, where Maurizio notes, "In every single scene in which a woman gives birth, there is something magical. The series portrays how extraordinary and diverse every birth can be and some of the most intense music I have ever composed is present in these scenes."
The album will feature a collection of the best tracks across seasons 4 through 7 and will allow the audience to relive the emotions of the breathtaking storylines penned by series Creator, Writer, and Executive Producer Heidi Thomas. "One of the elements that fascinated me the most when I began scoring the series was the degree of realism and depth that Heidi Thomas managed to create around the characters. I especially felt that every character, including leading characters Dr. Turner and Trixie, had a hidden side – an element of fragility that makes them more deep and real. I truly felt that my music could be an integral part of the storytelling and make each character seem more human, alive and ultimately unveil the hidden side of their personalities," said Maurizio of the role of his music in the series.
Newsletter
Enter your e-mail address to receive weekly soundtrack and film score news: