Varese Sarabande Announces 'Timeless' Soundtrack
APRIL 9, 2018 | Submitted by The Krakower Group / Soundtrack.Net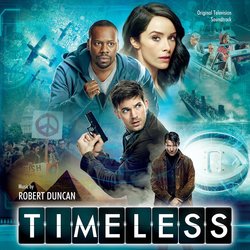 Varèse Sarabande will release the Timeless – Original Television Soundtrack digitally on April 13, and on CD May 4, 2018. The album features original music composed by Robert Duncan (S.W.A.T., Castle). Lead actress Abigail Spencer's rendition of "You Made Me Love You" is a special album-only bonus track.
"Timeless is a composer's dream gig," said Duncan. "One week it's exploring dark and chilling timbres for the Salem witch trials, next it's finding the right melody to express the thrill of humankind's first steps on the moon. What could be better?"
From Eric Kripke, Shawn Ryan, John Fox and John Davis comes this thrilling action-adventure series. In season 1, a mysterious criminal, Flynn (Goran Visnjic), steals a secret state-of-the-art time machine, intent on destroying America as we know it by changing the past. Our only hope is an unexpected team: Lucy (Abigail Spencer), a history professor; Wyatt (Matt Lanter), a soldier; and Rufus (Malcolm Barrett), a scientist, who must use the machine's prototype to travel back in time to critical events. While they must make every effort not to affect the past themselves, they must also stay one step ahead of this dangerous fugitive.
"When showrunners Shawn and Eric approached me about finding a musical tone for this story, they already knew they wanted the score to have both classic and modern sensibilities," said Duncan. "Embracing melody and thematic motifs and going for all the musical elements that have thrilled movie-goers for generations, but also bringing something fresh to the mix with some unusual textures and electronics."
Season 2 of the thrilling action-adventure series Timeless picks up right where we left off with our heroes. We continue to race throughout history with our beloved team – Rufus, Wyatt, and Lucy - in an attempt to prevent the destruction of the world as we all know it. This season they'll find an unlikely ally in their quest to ruin Rittenhouse, a deadly organization with plans to change history and reshape reality - even though Lucy's family has been a part of Rittenhouse for centuries. Still making every effort not to affect the past themselves, they will visit the years 1692, 1917, 1941, 1981 and more. We'll be introduced to the likes of Marie Curie, Hedy Lamarr, William Randolph Hearst and a multitude of other influential people throughout history.
"One thing remains consistent: at the heart of Timeless is the characters themselves, their relationships and the fear and wonder they experience as they step across dimensions," Duncan stated. "From Wyatt and Lucy's delicate piano love theme to the sinister snaking melody of Rittenhouse, the show has a collection of recurring themes that permutate alongside the now-malleable timeline of history. As far as size and scope, the score is called upon to swing for the fences, as each week the show is undoubtedly reliving a pivotal moment in history."
Newsletter
Enter your e-mail address to receive weekly soundtrack and film score news: