Varese Sarabande to Release 'Into the Badlands' Season 1 Soundtrack
APRIL 12, 2018 | Submitted by The Krakower Group / Soundtrack.Net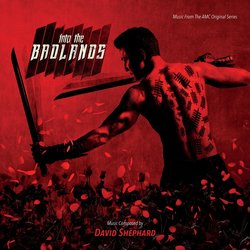 Varèse Sarabande will release AMC's Into the Badlands: Season 1 – Original Series Soundtrack digitally and on CD April 20, 2018. The album features original music composed by Dave Shephard (Longmire) with main titles by Warrior Blade. Varèse Sarabande will be putting out the second season soundtrack later this year.
"How much more inspiration can one ask for than a sweeping, futuristic epic set in a dystopian, feudal world of master sword-wielders and supernatural forces?" asked Shephard.
In Season 1, Sunny, the deadliest Clipper in the Badlands, rescues a boy, M.K., from a deadly ambush. As Sunny and M.K. try to uncover the secret behind M.K.'s dark power, a new baron threatens to start a war between the rival lands.
The post-apocalyptic, visually stunning martial arts series with incredible cinematography and cinema-worthy fight sequences gave Shephard a good deal of inspiration. "From scene to scene to scene, I discovered richly textured characters, costumes, landscapes and story lines that conjured in me an immense wealth of musical ideas with which to play as I created a sound and musical narrative for the TV-series," he explained.
"In the score there are taiko drums, distorted guitars, distorted strings, dark moody pads, ethnic instruments from around the globe, and obscure, native wind instruments," Shephard continued. "These are all combined with modern recording studio effects with the intent of bringing dystopia and futurism together in sound. As a composer, this was a thrilling project to be a part of and I am grateful to have had this extraordinary opportunity."
Newsletter
Enter your e-mail address to receive weekly soundtrack and film score news: