Varese Sarabande Announces 'Life of the Party' Soundtrack
MAY 8, 2018 | Submitted by The Krakower Group / Soundtrack.Net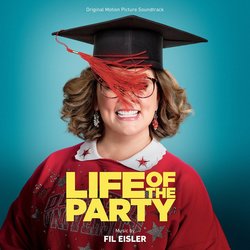 Varèse Sarabande is honored to announce the release of the Life of the Party – Original Motion Picture Soundtrack digitally and on CD on May 11, 2018. The album is a party-filled compilation of songs by artists including Meghan Trainor, Evie Sands, Cyndi Lauper, The Sugarhill Gang and Chick Norris with original music by Composer Fil Eisler (Empire, The Titan).
Composer Fil Eisler and Director/Writer Ben Falcone where in agreement about the direction of the score from the beginning. "The conversations with Ben were always about story and character and about the mother daughter relationship between Melissa McCarthy's character and Molly Gordon," Eisler explained. "There is this woman who had been secure in her life for twenty something years suddenly being thrown out into a whole new world that she knew very little about. She feels vulnerable and naive in some ways but strong at the same time. We didn't approach it from a comedic perspective at all."
New Line Cinema's comedy Life of the Party stars Melissa McCarthy under the direction of Ben Falcone. When her husband suddenly dumps her, longtime dedicated housewife Deanna (McCarthy) turns regret into re-set by going back to college…landing in the same class and school as her daughter, who's not entirely sold on the idea. Plunging headlong into the campus experience, the increasingly outspoken Deanna—now Dee Rock—embraces freedom, fun and frat boys on her own terms, finding her true self in a senior year no one ever expected
"The main theme, the 'mother and daughter' theme was basically the springboard for the whole score," said Eisler. "It appears a few times but almost always in some new guise depending on the scene. It was really nice because there's a hint of emotion in it, almost melancholy but a sort of resolve as well. It worked really well in the emotional scenes without pouring it on, and speeding it up turned it into this very upbeat triumphant cue when Melissa's character is first starting to find her footing in college."
Newsletter
Enter your e-mail address to receive weekly soundtrack and film score news: