Varese Sarabande to Release 'Killer Klowns From Outer Space: Reimagined'
MAY 10, 2018 | Submitted by The Krakower Group / Soundtrack.Net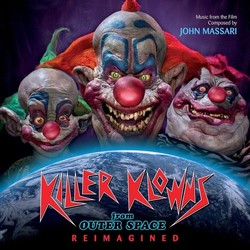 Varèse Sarabande Records will release Killer Klowns From Outer Space: Reimagined, a new recording of the soundtrack digitally on May 18th and on CD May 25, 2018. The album features the film's original synth score reimagined by composer John Massari, performed by the 30-piece Hollywood Chamber Orchestra, with a special guest appearance by composer Bear McCreary playing the accordion and hurdy gurdy. As a special treat, The Dickies recorded a brand new version of the film's theme song, featuring an extra creepy intro followed by their signature pure punk energized sound.
"Clowns can be frightening, bizarre and terrifying. We took that primordial fear and put it in a Sci-Fi movie," explained composer John Massari. "You have something that should make you happy and laugh, but now it will kill and eat you and… it's from outer space! Who would have dreamed of this? That's the craziest idea in the world."
America's fascination with Killer Klowns From Outer Space began on screen in 1988, as a group of clown-like aliens land their trans-dimensional space ship and terrorize a small American town. The film has achieved cult status with its clever blend of horror, science fiction and comedy.
"I was first assigned the task of writing a theme song for the movie Killer Klowns From Outer Space around 1987," said The Dickies frontman Leonard Graves Phillips in a post on the band's Facebook page. "After attending a rough screening to get a flavor of the film, I quickly got the concept for what sound-scaping the piece would require as well as a blueprint for its composition. I decided to follow a traditional circus motif reminiscent of pop songs borrowing from Julius Fucik's 'Entry of the Gladiators.' For Klowns, I simply put that same circus march melody over a dark, heavy metal chord pattern for a foreboding horror show effect."
"For 30 years, love and loyalty from fans the world over made this extraordinary movie a beloved cult classic," said Massari. "This release is our way to celebrate Killer Klowns From Outer Space directly with these fans."
Newsletter
Enter your e-mail address to receive weekly soundtrack and film score news: