Meliam Music to Release 'The Miracle Season' Soundtrack
MAY 14, 2018 | Submitted by The Krakower Group / Soundtrack.Net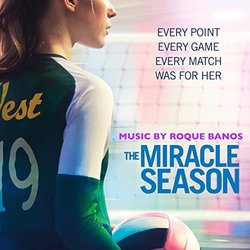 The Miracle Season, which premiered in theaters last month, features original music by Spanish composer Roque Baņos (The Commuter, In the Heart of the Sea). The soundtrack will be released digitally by Meliam Music.
The Miracle Season is based on the inspiring true story of West High School girl's volleyball team. After the tragic death of the school's star player Caroline "Line" Found, the remaining team players must band together under the guidance of their tough-love coach in hope of winning the state championship. The film was directed by Sean McNamara and stars Helen Hunt, William Hurt, Danika Yarosh, and Erin Moriariy.
A volleyball fan himself, Baņos was familiar with the West High School's story. "I heard from the story a couple of years before I scored the movie and was very touched by it. I remembered thinking at the time that this amazing story would make a great movie."
Baņos was able to work closely with McNamara and producer Pete Shilaimon to set the correct tone for the story. "They wanted a very emotional and epic Americana score that encourages everyone to overcome any dramatic situation. I used a traditional orchestral sound with the addition of a marching band percussion section," he described.
In addition Baņos was able to meet Caroline Found's father, Ernie and show him some of the score. "He is an extraordinary man, a French horn player, that had lived through the most terrible time a father could have. But he always smiles, and he expressed how much he was touched by the theme, that he immediately thought about his daughter and every moment he spent with her. This was one of the most special moments in my life."
Newsletter
Enter your e-mail address to receive weekly soundtrack and film score news: