Little Twig Records Announces 'The Gospel According to Andre' Soundtrack
MAY 22, 2018 | Submitted by White Bear PR / Soundtrack.Net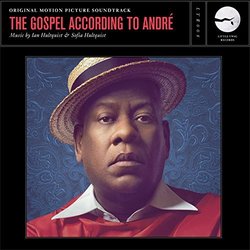 Little Twig Records will digitally release The Gospel According to Andre – Original Motion Picture Soundtrack, which features the film's original score by Ian Hultquist and Sofia Hultquist (also known as Drum & Lace). The documentary about the life and career of renown fashion editor André Leon Talley was an official selection of the 2017 Toronto International Film Festival, where it made its world premiere. The soundtrack will be released digitally on May 25th, in culmination with the film's theatrical release.
"This score stood apart from others Sofia and I have worked on together mainly because of the sheer amount of genres we had to cover, while still writing some strong musical themes for the story. For example, André's main theme is first heard played on solo piano at the very beginning of the film, but then comes back later on through synths, guitars, etc. We found ourselves working with such a large musical palette on this film – we'd jump from Big Band to Jazz trio to indie electronic synth pop, all within the same day. As André moves through the 70's & 80's, so does our theme," said Ian of his and Sofia's diverse collaborative score.
Sofia spoke of the inspiration The Gospel According to André director Kate Novack provided, which enabled her and Ian create a soundtrack that is exquisitely aligned with André's true persona: "Kate Novack took on the impossible task of capturing both André's exuberant personality and his deep-rooted respect for class and beauty, and combined it all into a stunning character study. It was so inspiring to watch footage of André throughout the years as he moved up through the fashion world, and to learn about his story. Kate was very enthusiastic about working with us to push our musical boundaries, to write bold and often times eccentric music – just like André!"
Newsletter
Enter your e-mail address to receive weekly soundtrack and film score news: