Lakeshore Records Announces 'Hotel Artemis' Soundtrack
MAY 31, 2018 | Submitted by The Krakower Group / Soundtrack.Net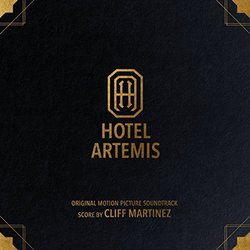 Lakeshore Records will release the Hotel Artemis - Original Motion Picture Soundtrack digitally on June 8, 2018 and on CD shortly thereafter. The album contains additional original music by Rock and Roll Hall of Fame member, composer Cliff Martinez (Drive, Game Night). The film re-teams Martinez with Drive producer Adam Siegel.
"I love being asked to get the band back together again. Especially when the band is the team that released one of my career defining scores - Drive.," said Martinez. "Am glad to have gotten the call from Adam Siegel for Hotel Artemis and that Lakeshore will be releasing the soundtrack. And we've struck creative gold again with Hotel Artemis. For best results, sit motionless between two speakers for the entire duration of the recording and bask in the uplifting and explulsive electronic mayhem."
Set in riot-torn, near-future Los Angeles, Hotel Artemis is an original, high-octane action-thriller starring Jodie Foster as The Nurse, who runs a secret, members-only hospital for criminals. Jodie Foster is joined by an all-star cast that includes Sterling K. Brown, Sofia Boutella, Jeff Goldblum, Bryan Tyree Henry, Jenny Slate, Zachary Quinto, Charlie Day, and Dave Bautista.
Newsletter
Enter your e-mail address to receive weekly soundtrack and film score news: