Lakeshore Records to Release 'Tag' Soundtrack
JUNE 7, 2018 | Submitted by Lakeshore Records / Soundtrack.Net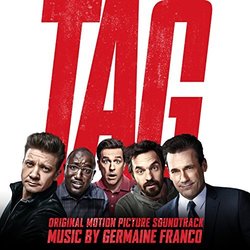 Lakeshore Records announced today the upcoming release of the soundtrack to New Line Cinema's summer comedy, Tag, which features an original score written and produced by composer Germaine Franco (Coco). The album will be released digitally on June 15th – the same date the film premieres in theaters in the US.
"Scoring Tag was a collaborative and exciting experience," says Franco. "When I first saw the film, I couldn't stop laughing. I loved what Jeff Tosmic had done with the film. Working with him was a very synergistic experience. Jeff had specific ideas about the themes for the film. He wanted to build a theme that had elements of a caper theme that could also be transformed into a friendship theme. In addition, we created a mission theme, to show how much the characters were quite serious about the game of tag. I truly enjoyed working with Erin Scully and Kim Baum from New Line Cinema. Their creative vision guided the direction of the score as well."
Germaine continues, "Listeners can expect some big action sequences with some bombastic low brass and percussion which denote the seriousness and intensity of the Tag team's dedication and the persistence that the Tag players bring to the game. Also, there are multiple comedic sequences featuring a caper theme. During these scenes, Jeff wanted a cool and sometimes nefarious and sound. Because Jeff liked electronica elements, I combined a live rhythm section, featuring Alex Al, the bassist (Beyoncé, Michael Jackson, Stevie Wonder), Jeff Chamberlain, drummer (Pearl Jam), Luis Conte, percussionist (James Taylor), and Andrew Synoweic, drummer (Michael Bublé, Shakira), with electronica, live orchestra, and choir."
Newsletter
Enter your e-mail address to receive weekly soundtrack and film score news: