BMG to Release 'Godless' Soundtrack
JUNE 12, 2018 | Submitted by The Krakower Group / Soundtrack.Net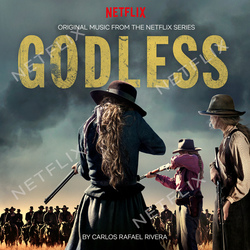 BMG presents the Godless – Original Netflix Limited Series Soundtrack to be released digitally on July 6, 2018. The album features original music by composer Carlos Rafael Rivera (A Walk Among the Tombstones). Grammy Award winner T Bone Burnett served as the executive music producer.
Godless is the second collaboration between composer Rivera and Executive Producer/Writer/Director Scott Frank. "We've found an unusual approach in which he'll send me the screenplay, early on during pre-production, and I will begin scoring the written word, not picture," explained Rivera. "We call these 'script movies,' because I make a QuickTime of the screenplay, and start scoring it. What's really cool about this is that it helps us realize what doesn't work, while helping set the tone of the storytelling."
To prepare to score Godless, Rivera first turned to classic western scores, but quickly realized though that some elements of the traditional western would not work for this series. "Instruments like the harmonica had too much baggage and quickly became cliché," he said. The main essence of the score became classical guitar (performed by Rivera) with cello (performed by Joy Adams). "I also used an organ and harmonium to set tone. This intimate setting was the core for most of the writing, and served as contrast when orchestral forces were required."
The two core pieces in essence bookend the story - the main titles and the final scene where the story is resolved. "When it came time to writing a main theme for Godless, we tried to find a singable melody, something that we could carry with us and would help encapsulate the story. Having the legendary T Bone Burnett as Executive Music Producer, as well as mix the Main Theme, influenced and inspired my approach to scoring the story," said Rivera. "Getting to write a theme for Michelle Dockery's Alice Fletcher was awesome. We wanted the heart of this theme to complement her character's enduring strength. I am most grateful that showrunner Scott Frank put so much trust in the score, having allowed it to carry the final scene for Godless, and help finish telling his story."
Newsletter
Enter your e-mail address to receive weekly soundtrack and film score news: