Notefornote Music Announces 'Higher Power' Soundtrack
JUNE 15, 2018 | Submitted by White Bear PR / Soundtrack.Net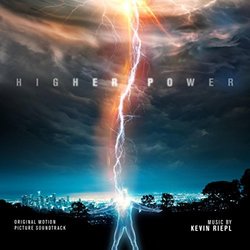 Notefornote Music has digitally released Higher Power – Original Motion Picture Soundtrack today, June 15th and will release the CD version on June 29th. The album will feature the Sci-Fi film's original score by award-winning composer Kevin Riepl. Higher Power was released in theaters on May 11th and is also available OnDemand.
Kevin Riepl on creating the music: "The score for Higher Power involved blending all aspects of instruments and sounds. Live orchestra, modular synths, and sound design are all part of the palette, which helped create a large cinematic experience for the viewer. I've done a decent amount of films and shorts in the Sci-Fi genre, I'd have to say this one is my most aggressive. One thing that stands out in the score is the deep low distorted muffled percussion/drums, which denote an important signature motif throughout the score. I decided purposely to create the main percussive elements to be muffled and distorted to help convey the root motivation, anger and drive of Joe, the main character.
Collaboration with the director Matthew Santoro was integral. Part of his vision for the score was to incorporate a symbolic line of dialogue from the story into the music. So throughout the film, there are rhythmic motifs and passages that reflect this thematic line of dialogue. This musical element was quite unique to my usual creative process and served as a great jumping off point for some of the cues throughout the film."
Newsletter
Enter your e-mail address to receive weekly soundtrack and film score news: