Varese Sarabande to Release 'Sicario: Day of the Soldado' Soundtrack
JUNE 20, 2018 | Submitted by The Krakower Group / Soundtrack.Net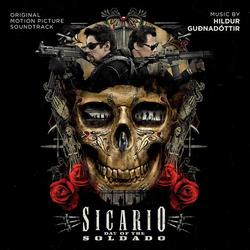 Music.Film Recordings and Varčse Sarabande will release the Sicario: Day of the Soldado – Original Motion Picture Soundtrack digitally and on CD June 29, 2018 and on LP on August 31. The album features original score composed by Hildur Guđnadóttir (Mary Magdalene, Chernobyl).
The late Jóhann Jóhannsson received an Oscar nomination for the music he wrote for Sicario (also available via Varčse Sarabande). Guđnadóttir had collaborated with Jóhannsson on Sicario and many projects over the years. "Jóhann and I worked together very closely on almost every single project we both did for about 15 years," she said. "He passed away so recently, so I have not really digested that he is no longer here. But I don´t feel like I have picked up a baton, I am simply carrying on with the work that we were already doing. That feels both natural and very surreal, for lack of better words or digestion."
With Sicario: Day of the Soldado, the series begins a new chapter. In the drug war, there are no rules – and as the cartels have begun trafficking terrorists across the US border, federal agent Matt Graver (Josh Brolin) calls on the mysterious Alejandro (Benicio Del Toro), whose family was murdered by a cartel kingpin, to escalate the war in nefarious ways. Alejandro kidnaps the kingpin's daughter to inflame the conflict – but when the girl is seen as collateral damage, her fate will come between the two men as they question everything they are fighting for. Directed by Stefano Sollima. Written by Taylor Sheridan. Based on Characters Created by Taylor Sheridan. Produced by Basil Iwanyk, Edward L. McDonnell, Molly Smith, Thad Luckinbill, and Trent Luckinbill.
"I think Soldado is more emotional than the previous film, and the score follows that direction. This one is a bit more of a 'classical' score, with musical themes that follow certain emotional landscapes. That is something that was important to Stefano [Sollima, director]," Guđnadóttir explained that Soldado has "a bit of a different feel as a score because the function of it is different. That is also a direction that was important to Stefano. He was also very vocal about the fact that he did not want to recreate the Sicario soundtrack, so he often wanted to go in very different directions from Sicario."
Newsletter
Enter your e-mail address to receive weekly soundtrack and film score news: