Lakeshore Records to Release 'Queen of the South' Score
JULY 2, 2018 | Submitted by The Krakower Group / Soundtrack.Net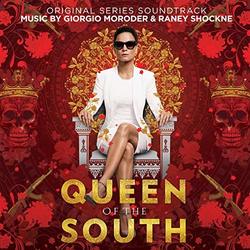 Lakeshore Records will release Queen of the South—Original Series Score composed by the legendary Giorgio Moroder - his return to TV/film scoring after more than three decades - and Raney Shockne (The To Do List, Britney Spears). Moroder and Shockne's score is polished electronic brutality that encapsulates vintage synthesizers, classical and Latin elements, and creates a new musical fusion. Building on Moroder / Shockne's original 'Electro-Noir' style, they have broadened their palette and together built on Giorgio's early aesthetics from such films as Midnight Express, American Gigolo and Cat People. The sweeping 28-track collection is a riveting chronicle that captures the show's blistering saga of blood and power. The hit USA Network series which stars Alice Braga, Peter Gadiot and Veronica Falcon returned for its third season on June 21st and airs Thursdays at 9pm/8c. Lakeshore Records will release Queen of the South—Original Series Soundtrack digitally on July 13th with a vinyl version forthcoming.
Inspired by the global best-selling novel "La Reina Del Sur" by internationally acclaimed author Arturo Pérez-Reverte, Queen of the South follows the journey of Teresa Mendoza (Alice Braga) and the sacrifices she must make not only to survive, but to make it to the top of the drug world. Where will she draw the line when her moral code and her destiny are at odds? Queen of the South is executive produced by David T. Friendly and Natalie Chaidez. Fox 21 Television Studios developed and produced the pilot, and runs lead on the co-production with Universal Cable Productions.
Says Showrunner/EP Natalie Chaidez: "If cocaine was music, it would be the driving, adrenaline fueled score written by Raney Shockne and Giorgio Moroder for Queen of the South... The perfect accompaniment to our epic tale of survival, ambition and power in the cartel world… Teresa Mendoza is the female Scarface, with the music to match"
Says Moroder: "Raney said, "Do you think the King of Disco could come and score the Queen of the South with me?". With Raney Shockne as a collaborator, I thought it was a perfect opportunity to push the possibilities of the electronic music score farther than ever before."
Newsletter
Enter your e-mail address to receive weekly soundtrack and film score news: