Sony Masterworks Announces 'Yellowstone' Soundtrack Album
AUGUST 22, 2018 | Submitted by Sony Masterworks / Soundtrack.Net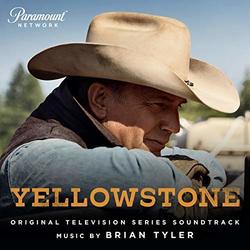 Sony Music proudly announces the release of Yellowstone (Original Television Series Soundtrack) with music by Brian Tyler, available now.
As one of the top 10 highest-grossing film composers of all time, Brian Tyler has an impressive resume that includes Avengers: Age of Ultron, Furious 7, Iron Man 3 and more, and is credited with scoring 3 out of 10 of the highest-grossing films of all time in global box office sales. On his musical contribution to Yellowstone, Brian Tyler says, "It has been incredible working with amazing director Taylor Sheridan on this project. His artistic vision encouraged an unbounded approach to composition. The visual canvas and thematic narrative of Yellowstone inspired me to create music that is intimate, tragic, and impressionistic in ways I have never before thought possible. I worked with so many phenomenal musicians from around the world ranging from the London Philharmonia Orchestra to superb soloists on viola, cello, and fiddle to capture the human soul behind the story. I strove for composing music that would support the complexity of the story and its characters. The tone of the music needed to reflect melancholy, joy, regret, intensity, revenge, love, tragedy, and beauty all at the same time. The music echoes tones throughout by use of thematic melody that feels it is at the heart of an epic yet intimate saga, while at times creating atmosphere that pushes the boundary of where music and sound converge. Taylor created a magnificent world and music was a central part of his overall vision to give Yellowstone a unique identity. It was a true challenge, and one that I am eternally grateful to be a part of."
Making its debut on Paramount Network this past June, Yellowstone chronicles the Dutton family, led by John Dutton (Kevin Costner), who controls the largest contiguous cattle ranch in the United States. Amid shifting alliances, unsolved murders, open wounds, and hard-earned respect – the ranch is in constant conflict with those it borders – an expanding town, an Indian reservation, and America's first national park.
Newsletter
Enter your e-mail address to receive weekly soundtrack and film score news: