Sony Music to Release 'Operation Finale' Soundtrack
AUGUST 23, 2018 | Submitted by The Krakower Group / Soundtrack.Net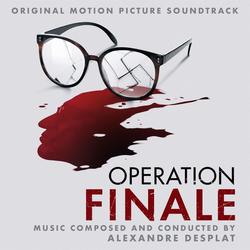 Sony Music releases Operation Finale (Original Motion Picture Soundtrack) with original music by Academy Award winner Alexandre Desplat (The Shape of Water, The Grand Budapest Hotel).The soundtrack will be available for streaming/download and on CD August 24, 2018. Metro Goldwyn Mayer Pictures (MGM) will distribute Operation Finale theatrically on August 29, 2018.
MGM's razor-sharp thriller, Operation Finale, brings to life one of the most daring covert operations in modern history. Starring Golden Globe winner Oscar Isaac and Academy Award winner Sir Ben Kingsley, and the film vividly captures the ingenious and brilliantly executed mission to capture Adolf Eichmann, one of the chief architects of the Holocaust.
Operation Finale is directed by Chris Weitz from a screenplay by Matthew Orton. Oscar Isaac is also a producer, along with Brian Kavanaugh-Jones and Fred Berger under their Automatik company and Jason Spire's Inspire Entertainment.
Alexandre Desplat says about the soundtrack: "Writing a score for the abduction of Adolf Eichmann has been a tremendous challenge. Chris and I tried to bring the audience into the mind of the Mossad squad, struggling to succeed in one of the most famous chases of a Nazi official; a criminal with no regrets or remorse whatsoever, hidden in Argentina. Organizing the train transports of Jews throughout Europe and supervising their systematic killings in villages or forests were some of Eichmann's tasks. The music I composed tries to modestly capture these elements of tragedy and madness. A group of 10 percussionists leads the London Symphony Orchestra into a Mephistophelian dance."
Newsletter
Enter your e-mail address to receive weekly soundtrack and film score news: