'House of Cards' Symphony Released
AUGUST 24, 2018 | Submitted by The Krakower Group / Soundtrack.Net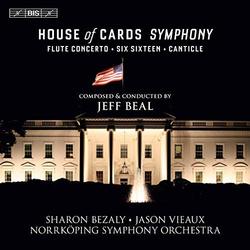 BIS Records is proud to announce the release of House of Cards Symphony and other works by composer Jeff Beal on August 24, 2018 in both digital and SACD formats. The composer also conducted all of the performances by Sweden's Norrköping Symphony Orchestra and renowned soloists Sharon Bezaly, flute and Jason Vieaux, guitar.
Composer Jeff Beal always wanted to address the larger scope and possibilities of classical composition in connection with film. From the start of his work creating the music for this internationally acclaimed Netflix series (soon to present its sixth and final season), there were not just characters, sets and action: the composer also saw themes, movements and ideas that rival the inspiration of great symphonies. The House of Cards Symphony is a culmination of this journey to express a timeless story through the power and majesty of the orchestra.
Beal explained the creation of the symphony. "This is concert music first and foremost for me - a bit of a coming-out party as a classical composer, but it's part of what I would call a new eclectic approach to the concert hall. By combining these two disparate threads of my work (soundtrack writing and the symphonic world), I think the recording shows my voice in a new way."
Each of the 10 movements of the House of Cards Symphony is built around a thematic idea or character from the series. Jeff Beal knew that beneath House of Cards' classic political intrigue and tragedy set in the modern context there was the perfect platform for a musical approach that reaches beyond the screen and into the hearts of symphony audiences everywhere. House of Cards in Concert was created as a way to bring this small-screen experience into the concert hall, and the House of Cards Symphony was born. The orchestration and material have been expanded and developed to utilize the power of the full symphonic ensemble, while the core instruments of the House of Cards soundtrack, electric and bass guitars, drum kit, piano and flugelhorn, remain.
The decision was made to record a two disc-set for the Swedish BIS label, with four other Beal works: Six Sixteen for guitar and orchestra (performed by Grammy Award-winner Jason Vieaux), Concerto for flute and orchestra (featuring Sharon Bezaly, who was soloist for the works' May 2017 Premiere by the Minnesota Orchestra), Canticle for strings and a new House of Cards Fantasy for flute and orchestra.
The Norrköping Symphony Orchestra has received international acclaim for its recordings of the music of the 20th century modernist composer Allan Pettersson, but here, under the direction of the composer himself, it has taken to the new idiom and welcomed the additional instruments necessary to bring out that House of Cards feeling.
Newsletter
Enter your e-mail address to receive weekly soundtrack and film score news: