Microsoft Studios & Sumthing Else Music Works Announce 'State of Decay 2' Special Edition Double-Vinyl Soundtrack
SEPTEMBER 18, 2018 | Submitted by Top Dollar PR / Soundtrack.Net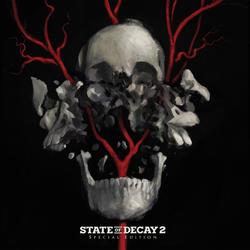 Sumthing Else Music Works, the premier record label dedicated to releasing video game soundtracks, and Microsoft Studios, today announced the State of Decay 2 - Special Edition double-vinyl soundtrack is available to pre-order at https://shop.sumthing.com. Recently surpassing 3 million players, State of Decay 2 is Undead Labs' sequel to the hit State of Decay, which has sold more than 4.5 million copies worldwide. Featuring 29-tracks from the original game score composed and produced by BAFTA winner Jesper Kyd, the double-vinyl soundtrack is presented in a full-color gatefold with unique illustrations by Undead Labs. The album was personally compiled by Kyd and features 10 previously unreleased tracks. Now available to pre-order, the State of Decay 2 - Special Edition Soundtrack will be released at retail and through Sumthing's new direct-to-consumer merchandise store on Black Friday, November 23.
Jesper Kyd's atmospheric guitar and analog synth score for State of Decay 2 immerses players in a haunting landscape, replete with intense action cues but also moments of reflection and hope. "I wanted to bring out more of the human emotion in the situations you are playing through, and for the music to make the experience feel hopeful as you try to rebuild and expand your community," explains Kyd.
Describing his approach to the score's unique musical palette, Kyd added, "I recorded many instruments such as dobro guitar, acoustic guitar, electric guitars, various live percussion, solo violin, solo cello. The live instruments are an important part of making the world of State of Decay breathe and come alive. The broken down post-apocalyptic world needs to be reinforced with the feel of rural Americana; we're in the American heartland and so the instrument palette was critical to accomplishing an authentic vibe."
Newsletter
Enter your e-mail address to receive weekly soundtrack and film score news: