Lakeshore Records Announces 'Assassination Nation' Soundtrack
SEPTEMBER 21, 2018 | Submitted by White Bear PR / Soundtrack.Net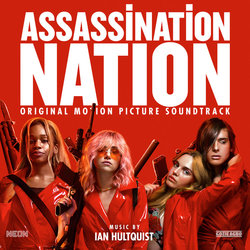 Lakeshore Records announced today, the release of the soundtrack to NEON's much buzzed-about thriller, Assassination Nation, which features an original score written by composer Ian Hultquist (A.X.L., The Gospel According to Andre). The film first premiered at the Sundance Film Festival to rave reviews and has since become a cultural phenomenon, warning to leave audiences "triggered." The soundtrack will be available on all digital platforms on September 21st – the same date the film opens in U.S. theaters.
When it came to the score, director Sam Levinson faithfully asked Ian to deliver the unexpected, to match the film. "We had a big breakthrough when Ian started chopping and screwing up the tracks, focusing on the hi-hats and a percussive quality. Ian would send over tracks and I'd slow them down and play them backwards and send it back to him to show him how crazy I wanted it. Then we brought in Isabella Summers from Florence + the Machine to do some original music. That opened up the floodgates even more," says Levinson.
Ian on creating the sound: "It was definitely an interesting challenge, and it became a pretty long process of exploring different ideas to find the right tones. I experimented with a wide spectrum of genres including ambient, Western, thriller, horror, trap, and delicate orchestra. It was pretty wild! In the end, I think there is an influence of all of those in the music, much like America is an influence of so many other cultures."
Newsletter
Enter your e-mail address to receive weekly soundtrack and film score news: