Music.Film Recordings Announces 'The Old Man & the Gun' Soundtrack
SEPTEMBER 28, 2018 | Submitted by The Krakower Group / Soundtrack.Net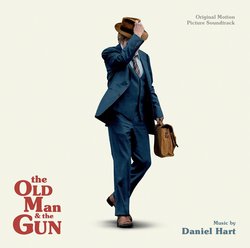 Music.Film Recordings presents The Old Man & the Gun – Original Motion Picture Soundtrack for Digital on September 28, 2018 and on CD October 5, 2018. The score features music from composer Daniel Hart (Pete's Dragon, A Ghost Story)
Based on the life and times of infamous prison escapee and unrepentant bank robber, Forrest Tucker (Robert Redford), The Old Man & the Gun follows the silver fox criminal in his audacious escape from San Quentin at the age of 70.
In the pursuit of Forrest are detective John Hunt (Casey Affleck), captivated by this aging Robin Hood's commitment to his craft, and Jewel (Sissy Spacek), the woman who loves Tucker in spite of his chosen profession. Confounding authorities and enchanting the public with an unprecedented string of heists, Forrest Tucker became an outlaw legend.
Composer Daniel Hart talks about working on the film, "I visited the set of The Old Man & the Gun last April, while they were filming the 'Three Day Bank' sequence in Ohio. I try to visit the set for every one of David's films, as it always gives me building blocks and jumping off points for the score. I was visiting at the same time that Robert Redford, Danny Glover, and Tom Waits were going to be filming together for the first time: a scene in the getaway car. I sat inside the bank and listened on headphones as these three national treasures exchanged stories from their childhoods in between takes. My last day on set, I happened to pass Mr. Redford in the hallway of the bank as he was heading to a fitting. He gave me a small nod as we passed each other, and I nodded back. And the twinkle in his eye, along with the stories I heard from that getaway car told me everything I needed to know about The Old Man & the Gun in order to get started: that this film was going to be absolutely delightful, and that I was going to have more fun composing the score for it than I ever had before."
Newsletter
Enter your e-mail address to receive weekly soundtrack and film score news: