Music.Film Recordings & Varèse Sarabande to Release 'What They Had' Soundtrack
OCTOBER 15, 2018 | Submitted by White Bear PR / Soundtrack.Net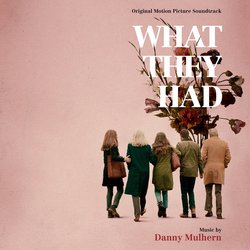 Music.Film Recordings and Varèse Sarabande Records will digitally release What They Had – Original Motion Picture Soundtrack on October 19th, which features an original score written by composer Danny Mulhern. The Bleecker Street film has received critical praise since it first premiered at the Sundance Film Festival earlier this year. The New York Observer raves that What They Had is "compassionate and utterly engaging. A stellar ensemble." Most recently, the film was an official selection at the Toronto International Film Festival. What They Had will be released theatrically in the U.S. on October 19th.
"The score for What They Had needed to convey the warmth and intimacy of the family dynamic, alongside the tensions going on within their relationships. The music has an intimate, homespun atmosphere, and as the film moves through its narrative, the score opens out more and more. Working on this project allowed me yet another opportunity to collaborate with the incredible London Contemporary Orchestra," says Danny.
Danny is grateful to have collaborated with the film's writer and director Elizabeth Chomko, who wrote the story from personal experience. "Elizabeth has a clarity and calmness that instills confidence. She is a kindred spirit. Throughout the process, she encouraged me to write the kind of music I write for myself, supporting and encouraging my expression as an artist, and making me feel absolutely valued. I believe this was essential – in order for the music to stay connected to the complex emotions going on in the narrative. Ultimately, it also made the process extremely rewarding."
Newsletter
Enter your e-mail address to receive weekly soundtrack and film score news: