The Jim Henson Company & Music.Film Recordings to Release 'Emmet Otter's Jug-Band Christmas' Soundtrack
OCTOBER 29, 2018 | Submitted by White Bear PR / Soundtrack.Net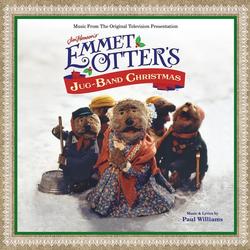 Just in time for the holiday season, the cozy collection of music from Jim Henson's Emmet Otter's Jug-Band Christmas will be available commercially for the first time ever this November. The 16-track album with music written and produced by Grammy-, Golden Globe- and Oscar-winning songwriter, Paul Williams will hit store shelves and all digital platforms on November 2nd. The album will be released on vinyl exclusively at thousands of independent record stores on Black Friday, November 23rd. A list of participating stores can be found at RecordStoreDay.com/Stores.
Based on a book by Russell and Lillian Hoban, this beloved Christmas tale, with an all-puppet cast of woodland creatures, tells the story of Ma and Emmet Otter – a family that has little more than each other. When a talent show is held in town, a fifty-dollar prize gives them each hope of buying the other a real present. Originally broadcast on HBO in December 1977, the special was nominated for four Emmy awards. Directed by Jim Henson and adapted for the screen by Jerry Juhl, Emmet Otter starred Jerry Nelson as Emmet Otter, Frank Oz as the puppet performer of Ma Otter, Marilyn Sokol as the voice of Ma Otter, along with frequent Muppet performers Dave Goelz, Richard Hunt, Eren Ozker, and Jim Henson himself.
Both the CD/digital and vinyl releases contain 15 tracks from the TV special and a bonus, "lost" song that never made it to air, along with extended liner notes featuring interviews with Oz and Goelz, and a special note from Williams. Paul recalls, "The great thing about Jim Henson is that he never wrote down to his audience. He never asked me to write kids' music. But there is a humor in there that is pure Muppet. And I think that the inspiration came from the book, but it also came solidly from my exposure to Jim's style. That's why you wind up with lines [from "Bar-B-Que"] like 'the sauce Mama makes will stay there forever if you dare to get it under your nails.' I think that sometimes we're at our best when we're trying to show off for somebody we really love – and I really loved Jim."
On December 9, in celebration of the first release of the original soundtrack recording of Emmet Otter's Jug-Band Christmas, Academy Award-winning composer Paul Williams joins Jim Henson Legacy President Craig Shemin at The Museum of the Moving Image in Astoria, New York for a clip-filled discussion of his many musical collaborations with Jim Henson and the Muppets. After the program, Paul Williams will sign Emmet Otter CDs (available for sale in the museum shop). For more information on "An Afternoon with Paul Williams," please visit movingimage.us.
Music.Film Recordings is also partnering with Rochester, NY's Lovin' Cup Bistro & Brews to present "The Music of Emmet Otter's Jug-band Christmas (and other Jim Henson favorites)"! Featuring an all-star lineup of Rochester's favorite bands, the event will pay homage to Emmet Otter with an interactive performance of its music. There will be four shows across 3 dates, November 30-December 2, and tickets will be available through Lovin' Cup.
Newsletter
Enter your e-mail address to receive weekly soundtrack and film score news: