Lakeshore Records to Release 'Destroyer' Soundtrack
NOVEMBER 15, 2018 | Submitted by The Krakower Group / Soundtrack.Net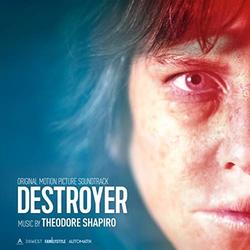 Lakeshore Records is pleased to announce the release of Destroyer – Original Motion Picture Soundtrack. The album features original music by composer Theodore Shapiro. This is the latest collaboration between Shapiro and visionary director Karyn Kusama, in a partnership that began with Girlfight.
When asked about the music, composer Theodore Shapiro focuses on the person at the heart of the film, "The music for Destroyer comes first and foremost out of the character of Detective Erin Bell, played by the wonderful actor Nicole Kidman. Guided by Phil Hay and Matt Manfredi's superb script, and through extensive conversations with Karyn Kusama, we as a team began to wrestle with how to give a musical language to this profoundly complicated female protagonist."
In Destroyer, a police detective reconnects with people from an undercover assignment in her distant past in order to make peace. The moral and existential odyssey of LAPD detective Erin Bell, whose undercover assignment to infiltrate California desert gang ended in tragedy. When the leader of that gang re-emerges many years later, she must work her way back through the remaining members and into her own history with them to finally reckon with the demons that destroyed her past. Directed by visionary Karyn Kusama and starring Nicole Kidman in the performance of her lifetime.
Shaprio continued about the wonderful and nuanced work and his pride in working on such a layered and well-realized project. "We collaborated with four brilliant musicians to create a sound that is obsessive, animal, fierce, but also tinged with a layer of pain and regret. I wrote an hour of music before Karyn started shooting the film. So unlike the more typical sequence, in which the film is shot first and then the composer starts writing, Karyn had a library of original music to help inspire her during production, and then incorporate into the film as she edited. The result, through her brilliant direction and Nicole Kidman's stunning performance as Erin Bell, is something of which I'm deeply proud.
Newsletter
Enter your e-mail address to receive weekly soundtrack and film score news: