'Creed II' Soundtrack Released
NOVEMBER 16, 2018 | Submitted by Sony Masterworks / Soundtrack.Net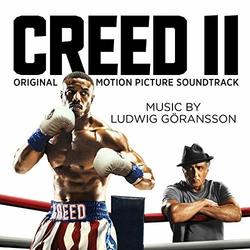 Sony Music announces the release of Creed II (Original Motion Picture Soundtrack with music from three-time Grammy Award nominee Ludwig Goransson (Black Panther, Fruitvale Station). Göransson makes his return to the Creed franchise for film's soundtrack, which includes a star-studded lineup of features from A$AP Rocky, Vince Staples and Jacob Banks.
Composer Ludwig Goransson comments: "In Creed II, Creed is now at the peak of his career. He is facing big responsibilities and decisions that will affect not only him but also his family. When I wrote the score for Creed II, I continued on my journey from the first Creed. The themes that were more youthful three years ago now had to mature into a more serious musical language. It was also a huge honor to write a theme for one of the most popular antagonists in film history, the Drago family."
Creed II will be distributed theatrically in the U.S. by MGM on November 21, 2018, and Warner Bros. Pictures will distribute the film internationally.
Newsletter
Enter your e-mail address to receive weekly soundtrack and film score news: