Lakeshore Records to Release 'Travelers' Season 2 Soundtrack
DECEMBER 6, 2018 | Submitted by Defiant PR / Soundtrack.Net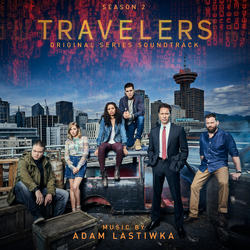 Film composer Adam Lastiwka has announced the release of his original soundtrack for season two of the hit Netflix series Travelers on Friday, Dec. 14, 2018, available through all major digital retailers. The time-traveling series' soundtrack will be released through Lakeshore Records, coinciding with the Netflix season three premiere. In addition, Lastiwka will release a streamable 27-minute continuous mix of music from season one. The track will consist of every piece of music from season one, episode three, as a continuous cue. It will be available on Bandcamp through Lakeshore Records on December 14th.
The Canadian sci-fi series created by Brad Wright and starring Eric McCormack, follows a team of operatives from the future sent back to the 21st century. These "Travelers" take on the lives of unassuming individuals, while secretly working as teams to perform missions in order to save humanity from a terrible future.
The season two original soundtrack features 21 tracks of arrangements combined with underlying electronic melodies that further develop the dark plot behind the drama-filled series. The album creates the perfect backdrop for the futuristic atmosphere depicted within the captivating time-travel series through electronic sequencers, samplers, computer-based software, and an array of different musical instruments.
"Having the opportunity and freedom to create a number of sound collages for Travelers has been a truly exceptional experience," said Lastiwka. "The Travelers season two soundtrack demonstrates the depth of the themes. Anyone familiar with the second season will be able to pick out their favorite character themes and find more familiar sonic territory."
Lastiwka distinguished himself as a pioneer of the home studio-based recording movement at the young age of 17. While working at a music store, Lastiwka met award-winning Berklee-trained Composer Shawn Pierce, and began an apprenticeship that lasted over seven years and ultimately led to the beginning of Lastiwka's career as a film composer. Lastiwka's passion for composing has been demonstrated by the many projects he's been part of, which range from hundreds of episodes of television and documentaries to feature films, trailers, and dozens of full-length albums.
"I've been making television for a very long time and have worked with world class composers, so please believe me when I say that Adam Lastiwka is a genius," said Brad Wright, creator of Travelers, "Travelers is elevated by his music. His easy going, collaborative nature and his immense musical talent make him a joy to work with I hope to for many years to come. I listen to his scores every day I write."
Fans of the futuristic sci-fi thriller can look forward to streaming Travelers' season 3 exclusively on Netflix beginning Friday, Dec. 14, 2018. Lastiwka will release the season 3 soundtrack in early 2019.
Newsletter
Enter your e-mail address to receive weekly soundtrack and film score news: