Sony Music Announces 'Spider-Man: Into the Spider-Verse' Score Album
DECEMBER 13, 2018 | Submitted by Sony Music / Soundtrack.Net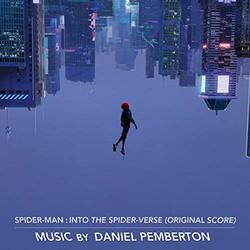 Sony Music proudly announces the release of Spider-Man: Into the Spider-Verse (Original Motion Picture Soundtrack) featuring original music by multiple Golden Globe nominee Daniel Pemberton. The soundtrack will be released digitally and on CD on December 17, 2018. Columbia Pictures and Sony Pictures Animations' Spider-Man: Into the Spider-Verse will debut in U.S. theaters on December 14.
Phil Lord and Christopher Miller, the creative minds behind The Lego Movie and 21 Jump Street, bring their unique talents to a fresh vision of a different Spider-Man Universe, with a groundbreaking visual style that's the first of its kind. Spider-Man: Into the Spider-Verse introduces Brooklyn teen Miles Morales, and the limitless possibilities of the Spider-Verse, where more than one can wear the mask.
Directed by Bob Persichetti, Peter Ramsey and Rodney Rothman, the screenplay is by Phil Lord and Rodney Rothman from a story by Phil Lord based on the Marvel Comics. The film is produced by Avi Arad, Amy Pascal, Phil Lord, Christopher Miller and Christina Steinberg. Stan Lee, Brian Michael Bendis and Will Allegra serve as executive producers. The film features the voices of Shameik Moore, Jake Johnson, Hailee Steinfeld, Mahershala Ali, Brian Tyree Henry, Lily Tomlin, Luna Lauren Velez, ZoŽ Kravitz, John Mulaney, Kimiko Glenn with Nicolas Cage, Kathryn Hahn and Liev Schreiber.
"Daniel's innovative score combines a multi-verse of techniques, including intricate DJ scratching, powerful electronic synths and soaring orchestral arrangements," said Spring Aspers, Head of Music, Creative Affairs Worldwide for Sony Pictures Entertainment's Motion Picture Group. "It's a perfect blend of influences that captures Miles Morales'sBrooklyn world and the film's inclusive, optimistic message of heroism: that when it's time to step up, anyone can wear the mask."
Daniel Pemberton says about the soundtrack: "It has been such a pleasure to enter the Spider-Verse with such an amazing array of collaborators and truly ground-breaking directors. I absolutely love this film, I love the risks taken, the story, the astonishing art style, everything. I feel so lucky to have been a part of it and to have the opportunity to create a whole new musical universe for one of the world's most beloved superheroes - Spider-Man."
Newsletter
Enter your e-mail address to receive weekly soundtrack and film score news: