Lakeshore Records Announces 'What Men Want' Soundtrack
FEBRUARY 7, 2019 | Submitted by Lakeshore Records / Soundtrack.Net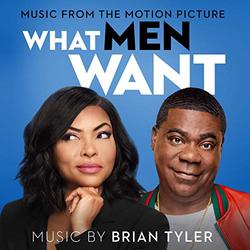 Lakeshore Records is set to release What Men Want—Music From The Motion Picture digitally February 8. The original score was composed by Brian Tyler (Avengers: Age of Ultron, Crazy Rich Asians). A fresh take on the comedy classic What Women Want, the Paramount Pictures film was directed by Adam Shankman, and stars Taraji P. Henson, Tracy Morgan, Josh Brener, Aldis Hodge and Erykah Badu opens in theaters February 8.
Ali Davis (Taraji P. Henson) is a successful sports agent who's constantly boxed out by her male colleagues. When Ali is passed up for a well-deserved promotion, she questions what else she needs to do to succeed in a man's world... until she gains the ability to hear men's thoughts! With her newfound power, Ali looks to outsmart her colleagues as she races to sign the next basketball superstar, but the lengths she has to go to will put her relationship with her best friends and a potential new love interest (Aldis Hodge) to the test.
Says Tyler: "When director Adam Shankman and I first spoke about the score for What Men Want we quickly realized that how Taraji P. Henson played the character of Ali Davis was the key to the entire score—vulnerable yet confident, smart, hilarious, sexy, flawed, gifted, and yearning for something more. The drive her character has was something we felt could be embodied by the drums which happened to be my first instrument and first musical obsession. So it was great to be able to jump on the drumkit and compose music for the drums as well as perform the parts for the score myself. The other components of the score would be the emotional old school jazz trio themes and the throwback R&B / funk music. The emotional themes for the movie are bittersweet - old school jazz upright bass, piano, and saxophone. As for the R&B and funk score, I played all the instruments making myself a one-man funk band utilizing drumkit, electric bass, vintage electric guitars, clavinet, rhodes, piano, percussion, and flute. The music, like the characters, is at times energetic, quirky, powerful, swanky, and full of attitude. The sound is influenced by 50s jazz, 70s funk and soul, and 90s R&B—some of it straight up dance inducing and some of it with sharply accented progressive odd-meters, and a lot of it allowed me to solo up on a storm on drums, piano, keys, and guitar. What a joy it was to work on this film with the wonderful and incredibly talented Adam Shankman!"
Says Shankman: "I am trying to find words that express my intense gratitude to the incredible Brian Tyler but I can't find one big enough or with enough syllables to get there. He is resourceful as he is musically magical, and I thank God and Paramount Music every day for bringing him into my life. Brian wasn't just What Men Want wanted....it was what it needed. I can't wait for everyone to enjoy his incredibly fun score in the movie and on the What Men Want soundtrack."
Newsletter
Enter your e-mail address to receive weekly soundtrack and film score news: