Varese Sarabande Announces 'House of Cards' Season 6 Soundtrack
FEBRUARY 15, 2019 | Submitted by The Krakower Group / Soundtrack.Net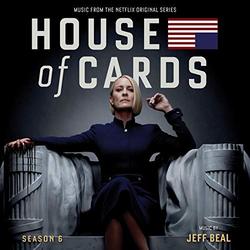 Varèse Sarabande celebrates President's Day with the release of House of CardsSeason 6 - Original Netflix Series Soundtrack. The album features the original music composed by Jeff Beal. The digital album is available now at online retailers, while the CD is a VareseSarabande.com exclusive. All 500 CDs of the limited run are signed by the Emmy Award-Winning composer. Soundtracks to seasons 1-5 of House of Cards are also available from Varèse Sarabande.
"It's with great pleasure I bring you our final installment of music from House of Cards." Said composer Jeff Beal about the conclusion of the award winning show. "Our show was about politics, but I always felt it was also about something more universal - the dark recesses of human behavior, ambition, and betrayal. Our show, at it's best, seemed to be able to make the unlikeable compellingly watchable - at times, relatable. I am honored that these final CDs complete a total of twelve over six seasons."
The sixth and final season of the critically acclaimed Emmy-nominated drama House of Cards opens with Golden Globe winning star Robin Wright (as Claire Underwood) at the helm of the nation as its first female President. Oscar-nominated actors, Diane Lane and Greg Kinnear, join season 5 survivors, Michael Kelly, Jayne Atkinson, Derek Cecil, Paul Sparks and Joel Kinnaman, for a new dawn, a new day for the Underwood administration.
"As the world of real politics devolved during the six year run of our show, the once escapist fun of the devilish Underwoods seemed to inevitably converge towards our present reality." continued Jeff Beal. "The dangers of fascism, abuse of power, and blind loyalty are obvious and present but could not remove the small glimmer of hope buried deep within House of Cards. Even the worst villain was occasionally given a fleeting moment of humanity, empathy, decency. It was in these moments which I felt had the opportunity to express the ache, longing, and stark beauty of such possibilities."
"The score was equal parts political thriller, dark comedy, noir romance, and operatic tragedy that often emanated from the dark truths of it's protagonists but still represented a silent supporting character - the voices of their inner monologues, and our story." concluded composer Jeff Beal. "I hope you enjoy this music, and relish the listening journey as much as I have had in composing it for you."
Newsletter
Enter your e-mail address to receive weekly soundtrack and film score news: