Lakeshore Records to Release 'The Dragon Prince' Soundtracks
FEBRUARY 18, 2019 | Submitted by White Bear PR / Soundtrack.Net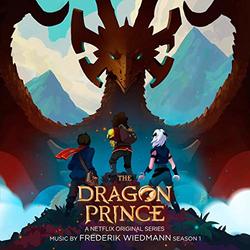 Lakeshore Records has announced the upcoming release of both the season one and season two soundtracks to the Netflix Original Series The Dragon Prince with original music from Frederik Wiedmann. The Dragon Prince is an original animated series produced by Wonderstorm for Netflix. Season one premiered in September, 2018 and immediately topped popularity lists across Rotten Tomatoes, Google, and Tumblr. Lauded for the diversity of its characters and its deeply layered storytelling, the show was renewed for a second season less than a month after its debut. The mix of action, adventure and humor attracted genre fans, families, teens and animation fans of all ages. Season 2 premieres on February 15 with nine new episodes. Lakeshore Records will release The Dragon Prince Season 1 and Season 2 - Original Series Soundtrack digitally on February 22.
In The Dragon Prince, a catastrophic war looms between two sides: the magical land of Xadia and the Human Kingdom. Three kids from opposite sides of the conflict—two human princes and the elven assassin who was sent to kill them—discover a secret that could change everything. They decide to join forces and go on an epic journey that may be their only hope of ending the war and restoring peace to both their worlds. The series is led by co-creators Aaron Ehasz and Justin Richmond.
Co-creators Aaron Ehasz and Justin Richmond had this to say about Frederik's work. "Freddie has an incredible ability to weave emotion, theme, and storytelling into his work that elevates The Dragon Prince to a new level."
"The Dragon Prince provides a wonderful canvas for me to explore a very colorful musical pallet. We wanted to give this world its own identity, so we decided to blend various ethnic and unorthodox instruments with a conventional orchestral sound. The use of a variety of live instruments was key to this, so we spent a great deal of time recording soloists all across the series, and for some parts we recorded a 40 Piece string orchestra for important scenes that needed it. It's been an absolute privilege to get to work on a series such as The Dragon Prince, a show so full of heart, imagination and excitement". – Frederik Wiedmann
Newsletter
Enter your e-mail address to receive weekly soundtrack and film score news: