Music.Film Recordings to Release 'Hotel Mumbai' Soundtrack
MARCH 19, 2019 | Submitted by White Bear PR / Soundtrack.Net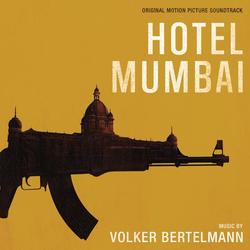 Music.Film Recordings announces the upcoming release of its soundtrack to the feature film Hotel Mumbai with original music from Volker Bertelmann who also records to much acclaim as Hauschka. A gripping true story of humanity and heroism, Hotel Mumbai vividly recounts the 2008 siege of the famed Taj Hotel by a group of terrorists in Mumbai, India. Among the dedicated hotel staff is the renowned chef Hemant Oberoi (Anupam Kher) and a waiter (Academy Award-Nominee Dev Patel) who choose to risk their lives to protect their guests. As theworld watches on, a desperate couple (Armie Hammer, and Nazanin Boniadi) is forced to make unthinkable sacrifices to protect their newborn child. Hotel Mumbai hits theaters on March 22 in Los Angeles and New York with a nationwide release on March 29 through its US distributors, Bleecker Street and ShivHans. The complete soundtrack will be released digitally on March 22 with a CD release following on March 29.
Hotel Mumbai's director, Anthony Maras, recounts his experiences working with Volker Bertelmann as inspirational, stating "Volker's score is the beating heart of Hotel Mumbai, connecting the intertwining narratives of the characters we follow into one cohesive whole. It is equal parts terrifying, inspiring and compassionate. From the first frame it grabs you and never let's go until the curtains close. It is without hyperbole that I say working with Volker was a dream come true."
Bertelmann's score evokes intense emotions from his high-voltage "How Many Bullets Do You Have" to the complex and haunting "Streets Reunion," which drives home the harrowing events of this siege. When speaking of his experiences working on the soundtrack, Volker writes "It was my sincere pleasure to work on Anthony Maras' Hotel Mumbai. I had the best time working on his intense thriller based on the drama of many people who lost their lives in this horrible attack. The film tells a clear story about how senseless terror can be and at the same time highlight how amazing people can react in extreme situation like this."
Newsletter
Enter your e-mail address to receive weekly soundtrack and film score news: