Sony Music Announces 'The Chaperone' Soundtrack
MARCH 29, 2019 | Submitted by Sony Masterworks / Soundtrack.Net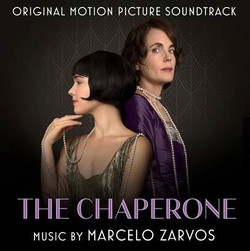 Sony Music announces the release of The Chaperone (Original Motion Picture Soundtrack with music by Emmy Award-nominated composer Marcelo Zarvos (Fences, Wonder, Sin Nombre) – available everywhere March 29. Originally making its premiere at the Los Angeles Film Festival, The Chaperone makes its theatrical debut alongside the soundtrack's release on March 29.
Of the soundtrack, composer Marcelo Zarvos says: "For the original score of The Chaperone I chose a more restrained chamber music approach rather than a big sweeping orchestra. There is something incredibly intimate and reserved about the character of Norma Carlisle, brilliantly brought to life by Elizabeth McGovern, that I wanted to preserve and honor in the score. The focus was always on Norma's internal world and gentle curiosity. The instrumentation of string quartet, trumpet, woodwinds, piano and harp was meant to capture the universal aspect of the story, leaving the wonderful jazzy and diverse source pieces in the film to portray the bustling 1920's New York City."
Director Michael Engler states: "I wanted the score for The Chaperone to suggest the intimacy of the artistic and emotional longings of the characters rather than reflect the period in general. Marcelo did an incredible job of crafting it with a slight nod to the chamber music pieces that Louise dances to and that her mother plays."
Louise Brooks the 1920s silver screen sensation who never met a rule she didn't break, epitomized the restless, reckless spirit of the Jazz Age. But, just a few years earlier, she was a 15 year-old student in Wichita, Kansas for whom fame and fortune were only dreams. When the opportunity arises for her to go to New York to study with a leading dance troupe, her mother (Victoria Hill) insists there be a chaperone. Norma Carlisle (Elizabeth McGovern), a local society matron who never broke a rule in her life, impulsively volunteers to accompany Louise (Haley Lu Richardson) to New York for the summer.
Based on Laura Moriarty's beloved New York Times best-selling novel, The Chaperone reunites the writer (Oscar-winner Julian Fellowes), director (Michael Engler) and star (Elizabeth McGovern) of Downton Abbey for an immersive and richly emotional period piece. The film also stars Campbell Scott, Géza Röhrig, Miranda Otto, Robert Fairchild, and Blythe Danner.
Newsletter
Enter your e-mail address to receive weekly soundtrack and film score news: