Harry Gregson-Williams' 'Penguins' Soundtrack Released
APRIL 17, 2019 | Submitted by Walt Disney Records / Soundtrack.Net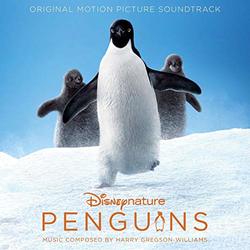 Walt Disney Records releases the digital soundtrack to Disneynature's new film Penguins today—the same day the film opens in theaters nationwide and the first-ever Disneynature film released in IMAX. The album features original score composed by award-winning film and television composer, Harry Gregson-Williams.
"Harry Gregson-Williams has written a massive orchestral score," says director Alastair Fothergill. "He's done an amazing job. It's a wonderful combination of intimate and amusing with big epic landscape-type pieces."
Adds producer Roy Conli, "Harry is an amazing artist. The spirit of the music in this film is flawless. It carried a significant weight and helps drive our story."
The score was recorded at the legendary Abbey Road Studios, utilizing a large orchestra and a choir. Says Gregson-Williams, "It has a wide range of emotions—from mischievous and humorous for the young and rather clumsy Steve when we meet him, to epic and awe-inspiring to reflect the extraordinary landscape and environment that these penguins live in."
The composer created individualized thematic material for Steve, Adeline, the chicks and predators like the leopard seals. Additional themes represent the changing of the seasons as well as a central theme for the penguins as a whole. "The music in a Disneynature film can be critical–just as it might be in a mainstream feature, but perhaps more so in this instance," says Gregson-Williams. "Given the fact that the story is told via a single voice, the narrator, the music has to play a large part in setting the tone."
Newsletter
Enter your e-mail address to receive weekly soundtrack and film score news: