'The Professor and the Madman' Soundtrack Released
MAY 10, 2019 | Submitted by Defiant PR / Soundtrack.Net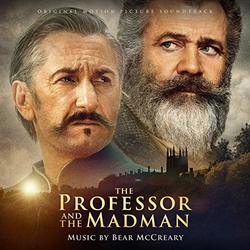 Emmy and BAFTA award-winning composer Bear McCreary's original soundtrack for The Professor and the Madman will be released by Sparks & Shadows on Friday, May 10th. The 18-track album will be available physically through Amazon and select retail outlets and digitally on all major platforms worldwide.
Based on the worldwide best-selling novel by Simon Winchester, The Professor and the Madman, starring Mel Gibson and Sean Penn, is an extraordinary true tale of madness, genius, and obsession about two remarkable men who created literary history with the writing of the Oxford English Dictionary.
The project was very personal for McCreary, having lived in Oxford as a child, and whose mother, Laura Kalpakian, is an author who instilled in him an abiding appreciation of the written word. "As a toddler, I would frequently stumble into my mother's office, my footsteps concealed by the relentless cadence of her fingers clacking on the typewriter," recalled McCreary. "I would try to get her attention by knocking over one of the many stacks of hardbound books that formed a labyrinth on the floor. Among those towers of tomes were many editions of the Oxford English Dictionary. When this project came to me, my first call was to my mother. I was nearly breathless with excitement when I told her about it."
McCreary's score for The Professor and the Madman is a modern interpretation of music from the period. James Murray's lilting waltz theme is supported by solo cello, performed by cellist Eric Byers. William Chester Minor's madness is represented by Sandy Cameron's schizophrenic solo violin, while Eliza Merrett is supported with gentle harp and woodwinds. McCreary quoted the period quite literally by incorporating into the drama his own musical setting of Christina Rossetti's contemporary poem "When I am dead, my dearest," performed dramatically by his longtime friend Melanie Henley Heyn. This was a concert piece he had composed independently several years ago, but realized that it fit the film's time period and dramatic needs perfectly. The soundtrack includes both the film version as well as a newly-produced recording of McCreary's complete concert work.
Newsletter
Enter your e-mail address to receive weekly soundtrack and film score news: