Back Lot Music to Release 'Ma' Soundtrack
MAY 21, 2019 | Submitted by White Bear PR / Soundtrack.Net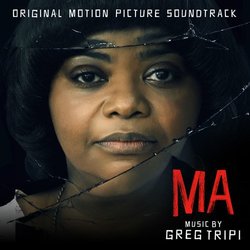 Back Lot Music is excited to announce the upcoming release of the Original Motion Picture Soundtrack to Ma, the new thriller from Universal Pictures, directed by Tate Taylor with music by award-winning composer Gregory Tripi (The Fix, Rememory). The album will be released digitally on May 24, 2019 and will feature the entire pulse-pounding original score from the feature film. A vinyl version of the album will be released on Mondo later this summer.
Gregory Tripi wanted the score for Ma to evolve and change with the main character, Sue Ann (Oscar winner Octavia Spencer), as her character becomes increasingly unhinged and dangerous. The score is primarily electronic throughout, except for one key scene in which Tripi used a bassoon. "I played bassoon when I was growing up and had a strange urge out of nowhere to buy one last year," he says. "So, I went on Craigslist and found one. It'd been about 20 years since I've picked it up, but muscle memory came back fast, so I recorded a bunch of long, textured notes with it. They're featured in the score quite a bit."
For Ma's main theme, Tripi employed two versions to represent Sue Ann's past and her present. "We have the younger version of Sue Ann during flashbacks in school," he says. "This was a more innocent time. To express that, I used a big metal drum called a Halo that plays melodies, which I had a number of thematic notes on. I did them again with piano. Later, I created Ma's metamorphosis into a very troubled woman. That theme was always going to be a much more kinky, disturbing, well-paced melody."
Tripi created a pallet of unexpected sounds for Ma. "There were a lot of glassy instruments in the score, as well as a number of analog synthesizers, a metal Halo drum and a few things that contrasted: a live cello, a voice in a few cues, then basically tearing it all apart at the end," he says. "I also used pitched wine glasses, ones that when you rub them make long glassy tones. It's a good organic vibe to have without feeling too recognizable. I also bought a ukulele in Hawaii that's made from a used Japanese Bento box. You'd never recognize it as such because it sounds so big and textured."
Newsletter
Enter your e-mail address to receive weekly soundtrack and film score news: