Lakeshore Records Announces 'The Last Black Man in San Francisco' Soundtrack
JUNE 5, 2019 | Submitted by Lakeshore Records / Soundtrack.Net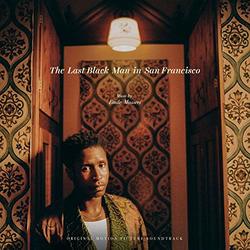 Lakeshore Records is set to release The Last Black Man in San Francisco - Original Motion Picture Soundtrack digitally on June 7 with a vinyl version forthcoming. The original score is composed by Emile Mosseri and a version of the pop classic "San Francisco (Be Sure to Wear Flowers in Your Hair)" performed by Mike Marshall which will be available as an instant grat track on all preorders beginning May 17. Directed by Joe Talbot (his film directing debut), The Last Black Man in San Francisco stars Jimmie Fails, Jonathan Majors, Tichina Arnold, Rob Morgan, Mike Epps, Finn Wittrock and Danny Glover. A24 will release the film on Friday, June 7 (New York, San Francisco and Los Angeles) with an expanded release June 14.
Jimmie Fails dreams of reclaiming the Victorian home his grandfather built in the heart of San Francisco. Joined on his quest by his best friend Mont, Jimmie searches for belonging in a rapidly changing city that seems to have left them behind. As he struggles to reconnect with his family and reconstruct the community he longs for, his hopes blind him to the reality of his situation.
A wistful odyssey populated by skaters, squatters, street preachers, playwrights, and other locals on the margins, The Last Black Man in San Francisco is a poignant and sweeping story of hometowns and how they're made—and kept alive—by the people who love them. Joe Talbot's directorial debut is a deep and resonant meditation on the stories we tell ourselves to find our place in the world.
Says Talbot in the liner notes: "Emile wrote a score that is both inseparable from the film and stands tall independently—you don't need to see Last Black Man to weep at his melodies. But if you have seen it, you know his trombones, trumpets, and saxophones are baked into Jimmie's regality, the instruments of a deposed prince who returns to reclaim the family thrown. That the foghorn-like tubas (supplied by the great Daniel Herskedal) recall misty San Francisco mornings. That the oboes, clarinets, and bassoons sprinkle magic onto each image they touch, telling us this is not a world you have seen before. And that his choral passages make Jimmie's home feel like church."
Says Mosseri: "I always thought of The Last Black Man in San Francisco as a modern day epic, and wanted my music to rise to that. It was an exciting challenge to write grandiose, lush orchestral music that lived up to Jimmie's incredible story. Joe is not only a brilliant story teller visually, but has an impeccable ear and deep understanding of how to emotionally track the arc of his characters and help tell Jimmies story through music. Was a great honor for me to build this score with him. Finding a true collaborator of his caliber is a rare and extraordinary thing."
Newsletter
Enter your e-mail address to receive weekly soundtrack and film score news: