Milan Records to Release 'Midsommar' Soundtrack
JUNE 19, 2019 | Submitted by Motor Mouth Media / Soundtrack.Net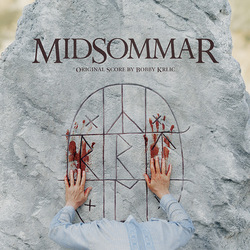 We are pleased to announce the release of the score to Midsommar on July 5th via Milan Records. Midsommar is the highly anticipated film release from Ari Aster, the director of the smash horror film, Hereditary. The complete Midsommar score was created by Bobby Krlic aka The Haxan Cloak.
Krlic has been releasing his own often-harrowing electronic music for the better part of the past decade under the moniker of The Haxan Cloak. It was his solo output that led to working with Aster on this new film: Aster had heard Krlic's work and wrote the whole script entirely to his music.
In addition to the more traditional underscore, Krlic was also responsible for the music that exists within the narrative of the film itself, the music that the characters play and sing inside the film. The script was written so the characters would have these wordless, atonal, ritualistic songs. So, Aster and Krlic developed a vocal language for the characters in the film to sing and sourced all traditional Nordic instruments, like such as a Hurdy Gurdy and a Key Harp, to record with.
The film, which dives deep into Swedish folklore and a kind of technicolor paganism, asked for a sonic universe that was both insular and oddly timeless - something by turns darkly ritualistic and deeply beautiful. The score achieves that.
"Trying to live up to the expectations of a director who wrote the script to my music was an intimidating task," says Krlic "but in the end I believe it's been the most rewarding and deeply educational experience I've ever had. Not only was working with Ari Aster an honour, but the work was a true collaboration."
Newsletter
Enter your e-mail address to receive weekly soundtrack and film score news: