Sparks & Shadows Announces CD Release of 'Child's Play' Soundtrack
JUNE 25, 2019 | Submitted by Defiant PR / Soundtrack.Net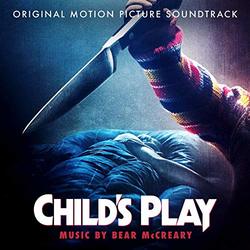 Sparks & Shadows is proud to announce the release of the Child's Play (Original Motion Picture Soundtrack) on CD, featuring music by award-winning composer Bear McCreary (Battlestar Galactica, The Walking Dead and Godzilla: King of the Monsters), available June 28th. The album features music from the highly anticipated reimagining of the 1988 slasher film from Orion Pictures.
Alongside an exclusive performance video previewing the Theme from Child's Play (available here), Bear McCreary revealed that much of his inspiration came from Chucky's toy-store origins, prompting the composer to assemble a "toy orchestra" that is featured prominently in the score and soundtrack. Also making a guest appearance on two of the collection's tracks is actor and voice of Chucky, Mark Hamill, joining Bear McCreary in the studio to provide a chilling addition to the score.
Of the soundtrack, composer Bear McCreary says, "When I first watched director Lars Klevberg's ambitious new vision for Child's Play, my imagination was immediately bombarded with a barrage of crazy sounds, ranging from toy pianos, to accordions, to hurdy gurdies. As the score evolved, those sounds gave way to even weirder textures, like otamatones, stylophones, and dozens of stacks of my own voice, singing like a deranged choir of little girls. Of all the performances, however, I am most proud of Mark Hamill, who dove into the soundtrack headfirst with enthusiasm and passion. I sincerely loved working with him, as well as with everyone involved in the film. I am thrilled to have the opportunity to contribute to Chucky's musical legacy!"
Directed by Lars Klevberg and written by Tyler Burton Smith, Child's Play is based on the original 1988 movie of the same name, and follows a mother named Karen (Aubrey Plaza), who gives her son Andy (Gabriel Bateman) a toy doll for his birthday, unaware of its sinister nature.
Newsletter
Enter your e-mail address to receive weekly soundtrack and film score news: