'Dora and the Lost City of Gold' Soundtrack Released
AUGUST 9, 2019 | Submitted by White Bear PR / Soundtrack.Net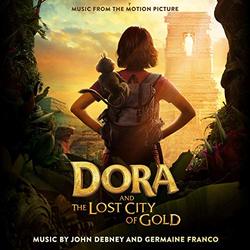 Paramount Music has released the music from the motion picture Dora and the Lost City of Gold, co-scored by John Debney and Germaine Franco. The album is now available for purchase and streaming on all digital platforms, and the film is playing in theaters nationwide.
John Debney and Germaine Franco joined forces with director James Bobin to interpret the ancient sounds of a lost Incan city, in the jungles of Peru. The duo worked with a live orchestra, choir, Latin musicians and indigenous Andean singers and musicians at the prestigious Air Studios in London.
Debney and Franco shaped their dynamic score with a variety of instruments, including a full orchestra, choir, Latin percussion, pop brass, conch shells, quenas, sikus, tarkas, toyos, cajón, charangos, and indigenous drums. Franco wrote poems in Spanish, which were translated to Quencha by scholar Américo Mendoza-Mori. The choir and Andean soloists, Phaxsi Coca and Dante Concha, are heard singing in Quenchua and playing Andean flutes in key moments of the film. The composers carefully wove the Latin music elements into the score, which represents Dora's tenacity and courage, by collaborating with several Latin players living in London from Peru, Bolivia, Cuba, and Columbia.
"I'm excited that Paramount Music is releasing the soundtrack for Dora and the Lost City of Gold. I so enjoyed collaborating with Germaine on such an iconic and beloved character as Dora. Germaine's musical sensibilities contributed a wonderful voice to the score." – John Debney
"Thank you to Paramount and James Bobin for releasing the score to Dora and the Lost City of Gold. Working together with John Debney on the score for this film was very moving. John's musical voice is absolutely wondrous. I enjoyed combining our musical talents into one cohesive sound." – Germaine Franco
Newsletter
Enter your e-mail address to receive weekly soundtrack and film score news: