'Telling Lies' Soundtrack Announced
AUGUST 20, 2019 | Submitted by White Bear PR / Soundtrack.Net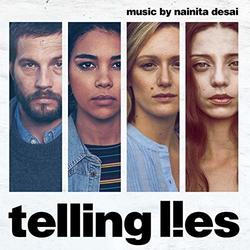 The Original Video Game Soundtrack to Annapurna Interactive's Telling Lies, with original music by Nainita Desai, is releasing digitally alongside the video game's launch on Friday, August 23 on Annapurna Interactive, Spotify, iTunes, Apple Music, Amazon Music, Google Play, Shazam and Tidal. The score, performed by the London Contemporary Orchestra (Phantom Thread, You Were Never Really Here), features an intimate string section, woodwinds, piano and harp, as well as unique extended playing techniques such as 'Spectral Scrubbing', for an airy floaty feel. Additionally, Desai utilized modern classical music techniques, introducing an element of chaos and visceral edginess.
From Sam Barlow, creator of 'Her Story' and 'Silent Hill: Shattered Memories', Telling Lies is an investigative thriller game with deep non-linear narrative storytelling that revolves around a cache of secretly recorded video conversations. Hailing from Hollywood films and TV shows such as X-Men, Halt and Catch Fire and Westworld, the game's stellar cast includes Logan Marshall-Green, Alexandra Shipp, Kerry Bishé and Angela Sarafyan.
"I have always had a love of the spy, thriller, covert intelligence, hacking genres, so for me this was a dream project. Sam Barlow approached me because he wanted someone with experience of cinematic storytelling sensibilities and I believe this hybrid form between film and gaming is the future of entertainment. We kick started the process by creating a musical mood board drawing on a variety of film and musical inspirations such as Francis Ford Copolla's The Conversation, to Tinker Tailor Soldier Spy to Philip Glass and many other noir and modern classical music references – it really helped us hone down the core of what we were trying to say emotionally. I didn't want to utilize any synthetic electronic elements – this had to be pure and raw where you hear the intimate relationship between the player and their instrument. The intention was to connect the player directly to the emotional core of the story, so as the game was being developed, Sam and I had in depth conversations about the characters, the multiple facets of their personalities and their dramatic arcs. I felt organic textures that had a dark beauty about them would suit the overall vibe of the game. Working purely from the script with no visuals at all was an inspiring challenge. I didn't have a visual mood board or film to watch, so I had to rely on the words on the page to pick up the essence of each character. Distilling each character down to a single piece of music was the big challenge but Sam is extremely collaborative, open minded and gave me great illustrative analogies to work with." – Nainita Desai, composer.
Newsletter
Enter your e-mail address to receive weekly soundtrack and film score news: