Lakeshore Records Announces 'Adam' Soundtrack
AUGUST 23, 2019 | Submitted by White Bear PR / Soundtrack.Net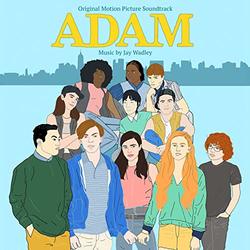 Adam, written by Jay Wadley (Indignation, Tales of the City). The soundtrack is now available for purchase and streaming on all digital platforms. The film is currently playing in select theaters and was released on August 14.
Rhys Ernst's impactful pro-LGBTQ+ film premiered at the 2019 Sundance Film Festival and has since played at Inside Out Toronto, Provincetown Film Festival, Outfest Los Angeles, and San Francisco Jewish Film Festival. In an early review, Variety said, "Adam has a pleasingly goofy, sweet, modest tenor amplified by Jay Wadley's dweeby lo-fi alt-rock score."
Jay Wadley on bringing Adam's score to life: "Working on Adam with Rhys Ernst [Director] was such a wonderful experience. Rhys was super generous and open creatively, but had a clear sense of the sound he was looking for, which really makes my job fun when diving into new material. We talked about bands like Young Marble Giants and Broadcast, who have this really special lo-fi bedroom pop vibe. One of my favorite words Rhys used to describe what he wanted the score to sound like was 'mildewy.' We used a lot of vintage Casio, Fairlight CMI, Mellotron, guitar, bass, and drum machine sounds and ran some of those through an old Marantz cassette player to get that lo-fi degraded feel."
Newsletter
Enter your e-mail address to receive weekly soundtrack and film score news: