Universal Music Announces 'Downton Abbey' Movie Soundtrack
AUGUST 29, 2019 | Submitted by Universal Music / Soundtrack.Net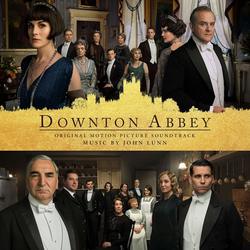 Decca Records/Decca Gold/Universal Music Canada announces the upcoming release of the Original Motion Picture Soundtrack to the highly-anticipated feature film, Downton Abbey, scored by composer John Lunn. Composed in a similar style to the two-time Emmy Award-winning music from the series, the score is richly orchestrated, with the familiar title theme making an appearance throughout. In a throwback to the 'Roaring Twenties', upbeat jazz arrangements appear alongside lavish waltzes, reflecting the popular styles of the day.
The original television series first aired on ITV in September 2010 and has enjoyed six critically-acclaimed seasons, gaining legions of fans worldwide and a plethora of awards for cast and creatives. Downton Abbey is scheduled for cinematic release on 13th September in the UK, and 20th September in the United States. The film picks up where the story left off in the autumn of 1927, joining Lord and Lady Grantham and the extended Crawley family as they prepare for a visit from the reigning King George V. With a script by Julian Fellowes, original cast members including Hugh Bonneville, Elizabeth McGovern and Dame Maggie Smith star alongside new cast members Imelda Staunton, David Haig and Geraldine James.
Lunn was the first choice to score the film and recalls when the project was first proposed: "I was delighted to be approached to create the feature length film score to a series which has had a huge impact on audiences and fans all over the world. At first it was like discovering a long-lost friend, but gradually I realised that we'd never really been apart; by the end it was just such a joy to revisit this material and have the opportunity to take it to a whole new level."
Newsletter
Enter your e-mail address to receive weekly soundtrack and film score news: