Milan Records to Release 'Seis Manos' Soundtrack
SEPTEMBER 13, 2019 | Submitted by Sony Masterworks / Soundtrack.Net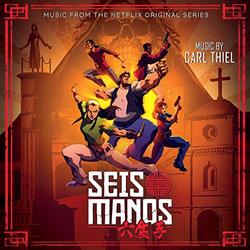 Milan Records, an imprint of Sony Music Masterworks, announces Seis Manos (Music from the Netflix Series with music by Grammy Award nominee Carl Thiel (From Dusk Till Dawn: The Series, The Teller and the Truth, Sin City: A Dame to Kill For). Available Friday, October 4, the soundtrack features music from the Netflix original anime series, which makes its debut on the streaming platform Thursday, October 3.
"I'm so grateful to Powerhouse Animation, VIZ Media and Netflix for giving me the opportunity, the freedom and the support to create the musical landscape of Seis Manos," says composer Carl Thiel of the soundtrack. "It is definitely the most expansive project I've worked on in terms of styles. It's certainly expanded my musical palette - with all the different worlds, the Chinese background, the Mexican elements, the magic and religious overtones, references to the Blaxploitation genre, the Grindhouse vibe and that special brand of humor from the '70's… it was such a blast to score. At the same time, I loved shaping the musical tone of the more serious, intimate and heartfelt moments; that passion, which represents the driving force of the Manos."
Set in Mexico in the 1970's, Seis Manos centers on three orphaned martial arts warriors who join forces with a DEA agent and a Mexican Federale to battle for justice after their beloved mentor is murdered in their tiny border town.
Newsletter
Enter your e-mail address to receive weekly soundtrack and film score news: